Hello everyone! This is my first blog post on this wiki, and I am indeed doing this for the badge (´∀`). I wanted to address the several differences between the Japanese release of the No Game No Life Zero Premium Box Set and the American/International release coming this August.
To begin, the Japanese release goes for about $101.99 on CDJapan as of now (I am not sure what it had originally went for). Included in the Box Set were many exclusive items of which some are not included (from what I know) in the soon to come English release.
Premium Box Contents (Japan):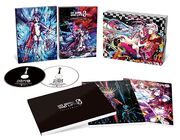 • Chipboard Box (Horizontal Rectangle)
• Chrome/Metallic Cover + DVD Case (ft. Schwi/Shuvi)
• BluRay DVD + Soundtrack CD
• Booklet featuring storyboard process & Information + Manga Short Story
• Artwork Included
Premium Box Contents (America/International):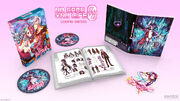 • Chipboard Box (Vertical Rectangle)
• DVD Case (ft. Schwi/Shuvi)
• BluRay + DVD (Soundtrack not included)
• 80 Page Booklet
• Official Sticker (ft. Schwi/Shuvi & Shiro)
As you can see there are several difference still between the two releases, and that may be due to costs and translations, which is fine by all means. Hopefully this will give some of you guys a decision on which one to buy. If I could I would buy the Japanese Release as it comes with a lot more things and has a really cool box compared to the English version (albeit being non-holographic), I suggest looking at some unboxing videos and check out the No Game No Life: Zero section of the wiki for more on this. I just want to hear other people's thoughts on this. By the way If I did miss anything please tell me!
Community content is available under
CC-BY-SA
unless otherwise noted.