About the Show
The original light novel that started the phenomenon!
In this fantasy world, everything's a game--and these gamer siblings play to win! Meet Sora and Shiro, a brother and sister who are loser shut-ins by normal standards. But these siblings don't play by the rules of the ""crappy game"" that is average society. In the world of gaming, this genius pair reigns supreme, their invincible avatar so famous that it's the stuff of urban legend. So when a young boy calling himself God summons the siblings to a fantastic alternate world where war is forbidden and all conflicts--even those involving national borders--are decided by the outcome of games, Sora and Shiro have pretty much hit the jackpot. But they soon learn that in this world, humanity, cornered and outnumbered by other species, survives within the confines of one city. Will Sora and Shiro, two failures at life, turn out to be the saviors of mankind? Let the games begin...!
Latest News
Loading RSS data...
Users
If you are younger than 13 years of age, you are not allowed to make an account due to laws against underage users.
Featured Article
No Game No Life: Zero (ノーゲーム・ノーライフ ゼロ, Nōgēmu Nōraifu Zero) is the official movie in No Game No Life franchise. It was first announced in July 17, 2016 during MF Bunko J Summer School Festival 2016 event.
Later on, it was announced that the movie will adapt the 6th volume of the light novel series.
It aired on July 15, 2017.
Read more...
Poll
Currently, on articles for different novel volumes, samples of included illustrations are uploaded to those article. However, Wikia, Inc., the compapny that provide the service and hosting for this No Game No Life Wiki, deemed some of those illustrations to be against their rule and thus removed them from the wikia. Should we continue hosting novel illustrations on the wiki? (Options updated 20170413 Z0524)
How do you feel about the anime adaption? Please rate it.
Latest Light Novel
Latest Manga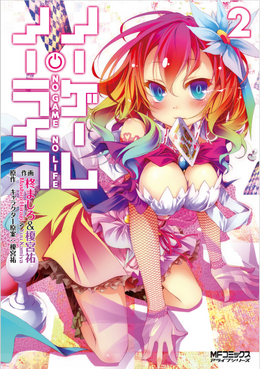 Community content is available under
CC-BY-SA
unless otherwise noted.